With the seemingly endless emphasis on prisons being full of the irredeemable, here's a timely reminder of the fact that they should be places of rehabilitation and that the people in there at present are capable of growth and change.
Prison Reform Movement's Weblog- America: Land of the Free, Home of the Incarcerated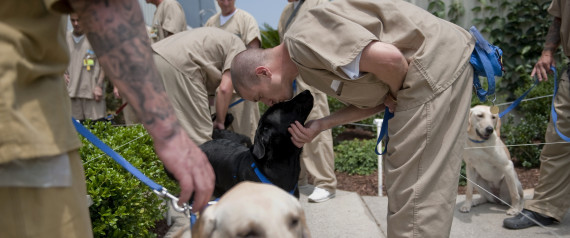 Inmates prepare to head back to their cells after training dogs for the day. Training the dogs is akin to a full time job for the men, with a fixed schedule and routine happening everyday. The men must care for, exercise and feed the dogs – giving them a sense of responsibility for living creatures, or as the many of them noted, 'as if they were our kids.' | Chris Maddaloni via Getty Images.
Arizona inmates saved 22-year-old female guard from jail cell attack.
Rachel Harris, a rookie detention officer at Lower Buckeye Jail in Maricopa County, Ariz., was conducting a routine cell check in June when inmate Bobby Ruiz allegedly jumped on her back and bit off a piece of her ear, Fox 10 reported.
According to Harris and jail surveillance video, inmates rushed upstairs to aid Harris, peeling Ruiz off the 22-year-old guard. Inmates Ricky Shillingford and…
View original post 3,022 more words